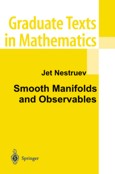 Smooth manifolds and observables
by
Jet Nestruev
---
Authors: A. M. Astashev, A. V. Bocharov, S. V. Duzhin, A. B. Sossinsky, A. M. Vinogradov, M. M. Vinogradov

Springer-Verlag, Graduate Texts in Mathematics, Vol. 220, 2002, XIII+222 pp., ISSBN 0-387-95543-7. Price: $59.95. In Europe for details and to order click here, in North America click here. Online version is available for Kluwer Online subscribers.

---
In this edition new exercises were added (mostly) to the first half of the book, thus achieving a better balance with the second half. Besides, some typos and minor errors, noticed in the Russian edition, were corrected.

---
Contents
Preface to the English Edition

Preface

Chapter 1

Chapter 2

Cutoff and Other Special Smooth Functions on Rn

Chapter 3

Algebras and Points

Chapter 4

Smooth Manifolds (Algebraic Definition)

Chapter 5

Charts and Atlases

Chapter 6

Smooth Maps

Chapter 7

Equivalence of Coordinate and Algebraic Definitions

Chapter 8

Spectra and Ghosts

Chapter 9

The Differential Calculus as a Part of Commutative Algebra

Chapter 10

Smooth Bundles

Chapter 11

Vector Bundles and Projective Modules

Afterword

Appendix: A. M. Vinogradov

The Observability Principle, the Set Theory, and "Foundations of Mathematics"
---