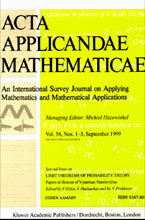 Symmetries of Partial Differential Equations
Part III
Edited by: A. M. Vinogradov, Moscow State University (Russia)
---
Special Issue of Acta Applicandae Mathematicae, Volume 16, Issue 2, 1989, ISSN: 0167-8019.

---
Contents
A. V. Bocharov and M. L. Bronstein, Efficiently implementing two methods of the geometrical theory of differential equations: an experience in algorithm and software design (pp. 143--166);
E. V. Pankratev, Computations in differential and difference modules (pp. 167--189);
V. L. Topunov, Reducing systems of linear differential equations to a passive form (pp. 191--206);
Paul H. M. Kersten, Software to compute infinitesimal symmetries of exterior differential systems, with applications (pp. 207--229);
P. K. H. Gragert, Lie algebra computations (pp. 231--242).
---