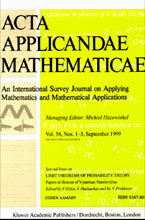 Symmetries of Partial Differential Equations
Part II
Edited by: A. M. Vinogradov, Moscow State University (Russia)
---
Special Issue of Acta Applicandae Mathematicae, Volume 16, Issue 1, 1989, ISSN: 0167-8019.

---
Contents
A. N. Leznov and M. V. Saveliev, Exactly and completely integrable nonlinear dynamical systems (pp. 1--74);
B. G. Konopelchenko, Recursion and group structures of soliton equations (pp. 75--116);
V. O. Bytev, Building of mathematical models of continuum media on the basis of the invariance principle (pp. 117--142).
---